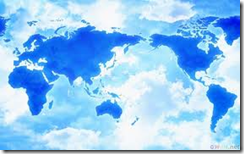 I've had my say on cloud and the new world of IT already in an earlier post, Predictions for the future. Today, I'm seeing signs the world is in fact starting to change. Sites like Instagram started small and grew big in no time. Were the founders IT wonders? No. And you don't have to be.
Not so long ago, it would have taken you a lot of time and resources to get your idea up and running on the Internet. Especially if it required multiple datacenters and scalability. You would have to deploy a bunch of servers and make sure you had an agile IT environment in place in order to get things running and keep things flexible, a key requirement for many startups but also for large organizations.
Today, cloud platforms like Windows Azure change the rules. Anyone can now build an advanced application architecture backed by an advanced infrastructure. Platform-as-a-service offerings like Windows Azure offer you the possibility to distribute users between different geographical regions. They offer you storage in multiple datacenters. They enable you to continuously deploy new versions of your software and easily rollback should things go wrong.
The cloud is not new technology. Virtualization is used. System administrators still run the datacenter. It's about new ideas and possibilities. The datacenter we knew before, is just the fabric in which your ideas come to life. A thin software layer on top of the giant hardware pool that is available makes sure that anyone can quickly combine a large number of easy-to-use building blocks to empower your idea. It makes advanced, global-scale projects easy and cheap and yet, more reliable.
Everyone on the globe, a small startup or a large organization, can now take advantage of the same IT possibilities that were previously only available for businesses running their own datacenter. Today, I can set up a global application that scales in a few hours at a very low-risk and price.
Of course, you need some supporting services for your business as well. For the development part, source control and issue tracking may be useful. GitHub, TFS Online and many others offer that as-a-Service, up and running in no time. For local teams, for distributed teams. The same story with e-mail, customer relation management, or even billing your customers. You can easily set up a new company or a new team based on the capabilities the new world of IT has to offer.
All of this has an impact on several areas. As small, agile startups or teams start working on their ideas and have a low time-to-market due to all of this, they can benefit over slow, unadapted large organizations. They can make higher profits because of the commodity services available in the cloud. They can make higher profits because organizations not making use of these technologies will fall behind. Probably sooner than we all think at this point in time. Large organizations will have to adapt to small, lean teams that know both the datacenter fabric they are working on as well as software. Silos will have to be broken down into lean teams, ready to make use of all that's offered at the platform level. Ready to be fast-to-market or even first-to-market. Much like startups are small teams that often already make use of these new techniques.
Make your idea come to life in this changing new world.
This is an imported post. It was imported from my old blog using an automated tool and may contain formatting errors and/or broken images.