Seems 2009 is starting off with yet another round of tagging people. Back in 2007, I already had to write five things about myself. Since we are now two years further, I guess each year asks for another extra item to be added. Thank you Michelangelo for making me write another post.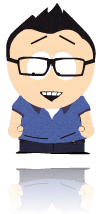 Here goes, seven things you may not know about me:
The first programming language I used was Visual Basic 4. Back then, it was distributed on 4 gray 3.5" floppy disks. I was 12 years at this time, and totally interested in anything that had to do with computers and software development.
You probably know this one already: I really drink lots of coffee every day. Not sure if this is healthy, but it keeps me going. I also guess this has to do with my favourite quote: "A developer is a machine that converts coffee into code". By the way, black coffee please!
I once had my own web development / web hosting company, named Squirrel. The WayBackMachine at Archive.org still knows about this. This is also the main reason I started to learn PHP: most of my customers were expecting PHP applications on Linux hosting, but I also had some ASP.NET customers for who I did ASP.NET development. Somewhere in 2006, I sold 100% of my shares and customers to Uniweb.
One of the things I really don't like doing is… sports! Really, no problem for me to do some long walks in a beautiful scenery, but please don't make me do fitness or jogging each day. Sooo boring! One of the sports I do enjoy is skiing, which I have been doing each year since I was 5. Since 3 years, I'm going to Pitztal, Austria. This ski resort features cosy Austrian hotels and après-ski, as well as a not too crowded glacier where the slopes are located.
I work for RealDolmen, one of the biggest IT players in Belgium. I'm located at a customer's office in the Netherlands since 2 years and a half now, four days per week. The fifth day is mostly for delivering various trainings to our junior employees, to work on Visual Studio Team System solutions, to drink more coffee, …
This year (and pobably next year too) will be the year where me and my girlfriend finally will be constructing our house! We'll do lots of things ourselves, so perhaps I should start a DIY (do-it-yourself) blog too, later this year.
I started a micro-blog on Twitter about a month ago.I guess it's a good channel if you want to learn more about me.
Since almost everyone I know in PHP land has been tagged, let's also tag some people outside PHP land:
Here are the rules if you are tagged:
Link your original tagger(s), and list these rules on your blog.
Share seven facts about yourself in the post - some random, some wierd.
Tag seven people at the end of your post by leaving their names and the links to their blogs.
Let them know they've been tagged by leaving a comment on their blogs and/or Twitter.
This is an imported post. It was imported from my old blog using an automated tool and may contain formatting errors and/or broken images.