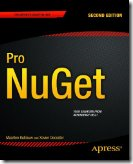 Pfew! Around February 2013, Xavier and I started planning work on an update of our book. Eight months later, we're proud to present you with Pro NuGet (second edition). It's been a tough couple of months writing this: Xavier has become a father for the second time (congratulations!), we've had two massive updates to NuGet we had to work in our book, … But here it is!
What's new?
A number of workflows with NuGet have changed and have been added. Expect all of these, including NuGet's old and new package restore functionality.
Want to work with NuGet and Windows Azure Websites, TeamCity, Visual Studio Online, OctopusDeploy, NuGet Gallery, ProGet or MyGet? We have a bunch of recipes for you!
Pitfalls of package versioning
Building a plugin system based on NuGet
Next to that there is a lot more meat in there!
Understand how NuGet fits into the big picture of your software development process to save you time and money.
How to keep your team working when your project depends on an external resource (such as a web service or cloud) which suddenly becomes unavailable.
Whether or not to auto-update NuGet packages within a continuous integration process for maximum reliability and speed.
How to combine NuGet with PowerShell to create your own Cmdlets and extend the base toolset in an extremely powerful manner.
Evaluate the pros-and-cons of hosting your own NuGet repository.
How to incorporate NuGet seamlessly within your continuous integration process.
Much much more!
We would love to get your feedback! E-mail us or write a review on your blog or Amazon. Enjoy the read!
PS: Thanks to our excellent reviewers (the NuGet team) and everyone at Apress! There is a lot of people involved in getting a quality book out there. Thanks!
This is an imported post. It was imported from my old blog using an automated tool and may contain formatting errors and/or broken images.