That's right! You can use MyGet as a staging feed and from there push your packages onwards to any other feed out there. MyGet takes care of the uploading.
Building the package
There's one thing which I forgot… How do I build these packages? Well… I don't. I let MyGet Build Services.do the heavy lifting. On your feed, you can simply click the "Add GitHub project" button and a list of all your GitHub repos will be shown: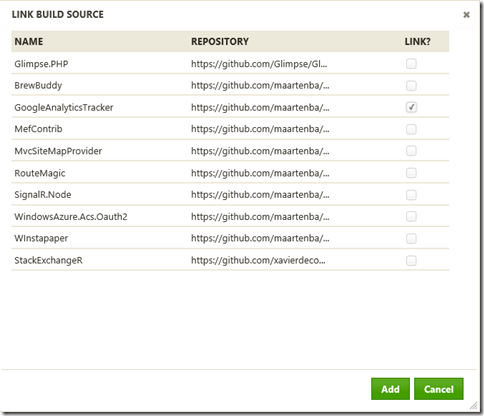 Tick a box and you're ready to roll. And if you look carefully, you'll see a "Build hook URL" being shown:

Back on GitHub, there's this concept of "service hooks", basically small utilities that you can fire whenever a new commit occurs on your repository. Wouldn't it be awesome to trigger package creation on MyGet whenever I check in code to GitHub? Guess what…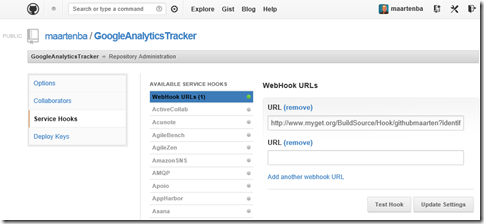 That's right! And MyGet even runs unit tests. Some sort of a continuous integration where I have the choice to promote packages to NuGet whenever I think they are stable.
This is an imported post. It was imported from my old blog using an automated tool and may contain formatting errors and/or broken images.