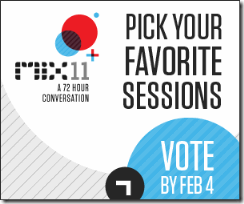 I have asked it last year, and I'll ask it again. One of my session proposals made it to the "short"list for MIX11. One thing left though: votes are the only currency to get my session proposal in Vegas.
Here's the session abstract:
Fun with ASP.NET MVC 3 and MEF

So you have a team of developers? And a nice architecture to build on? How about making that architecture easy for everyone and getting developers up to speed quickly? Learn all about integrating the managed extensibility framework and ASP.NET MVC for creating loosely coupled, easy to use architectures that anyone can grasp.
If you think this session deserves a place in Vegas, please cast your vote right here. And while you are at it, feel free to vote for both of my direct colleagues Kevin Dockx and Sandrino Di Mattia as well.
PS: No, I will not steal Mike Tyson's tiger.
This is an imported post. It was imported from my old blog using an automated tool and may contain formatting errors and/or broken images.