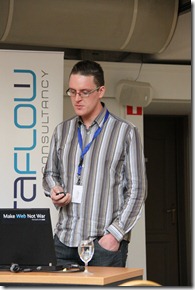 Slides of my talk at the PHPBenelux conference last weekend are online. Bit of a pity my live demo went wrong due to my www.azure.com trial account going into read-only mode while doing the demo.
Abstract: "While working together with Microsoft on the Windows Azure SDK for PHP, we found that we needed an popular example application hosted on Microsoft's Windows Azure. Wordpress was an obvious choice, but not an obvious task. Learn more about Windows Azure, the PHP SDK that we developed, SQL Azure and about the problems we faced porting an existing PHP application to Windows Azure."
Thanks for joining the conference and my session! And thanks to the PHPBenelux crew for organizing their first conference ever, it rocked!
This is an imported post. It was imported from my old blog using an automated tool and may contain formatting errors and/or broken images.