Everybody knows the Microsoft MIX event, right? The one in Las Vegas? The one with all the fancy web-related stuff? Rings a bell? Ok, great. In the beginning of December 2009, Microsoft did an open call for speakers, which I answered with some session proposals. Who doesn't want to go to Vegas, right?
The open call proposals have been processed (150+ sessions submitted, wow!) and a voting has started. Yes, you hear me coming: please go ahead and vote for a session I submitted. Voting ends January 15th, 2010.
Since I could not decide which color of the voting banner matched best with my blog's theme, I decided to put them all three online: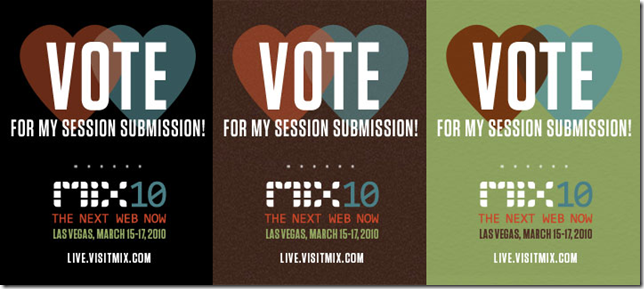 Thanks in advance!
Maarten
PS: There's also Elijah Manor, Justin Etheredge, K. Scott Allen, and many others who submitted good looking sessions.
This is an imported post. It was imported from my old blog using an automated tool and may contain formatting errors and/or broken images.