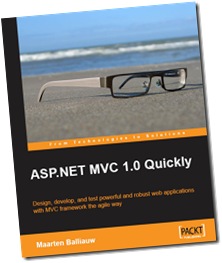 To keep up with a good tradition (see here and here), I have some great news on ASP.NET MVC: we are at version 1.0! This means production ready, supported, stable, …! Grab the download at Microsoft.com.
I'm expecting an epic blog post by the Gu, but here's some stuff you may want to have a look at: all my posts on ASP.NET MVC.
Another thing you can do: order my book on ASP.NET MVC :-) We've released the print version yesterday, meaning you are now completely set to start developing with ASP.NET MVC.
Edit: Looks like Simone was equally fast :-) And Kris.
Edit: More from MIX: Silverlight 3 SDK Beta 1 is already up! http://tinyurl.com/crfogs
This is an imported post. It was imported from my old blog using an automated tool and may contain formatting errors and/or broken images.