Article on ASP.NET MVC in .NET magazine #21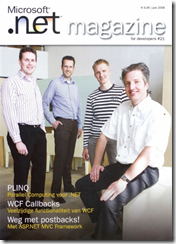 Yesterday, I received the new Dutch edition of .NET magazine containing my article on the ASP.NET MVC framework. Since the article was written quite a while ago, soucre code is no longer up-to-date. Readers who are interested (or anyone else interested in ASP.NET MVC) can download up-to-date code examples on the ASP.NET MVC guestbook page.
This is an imported post. It was imported from my old blog using an automated tool and may contain formatting errors and/or broken images.