Just a quick post to let you know I'll be taking over the @msdnbelux Twitter account for the next two weeks. This is the official Twitter account for MSDN BeLux. It's not hacked, I did not steal the password: they gave it to me!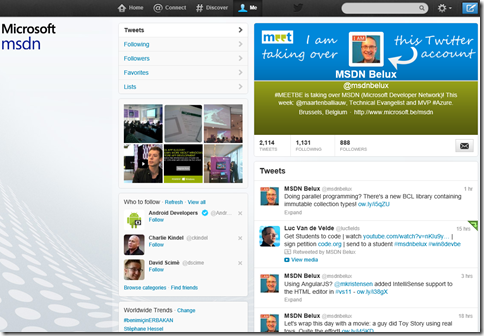 The best thing about this takeover is that there are no constraints: I can tweet whatever I want to tweet! So far it's been fun to do, I've seen a lot of reactions on my tweets as well. Let me know how I do! Who knows, I might just change the password and keep this account for myself after these two weeks :-)
Follow @msdnbelux and I'll provide you with great ASP.NET MVC, ASP.NET Web API, JavaScript and Windows Azure related content.
Enjoy!
This is an imported post. It was imported from my old blog using an automated tool and may contain formatting errors and/or broken images.