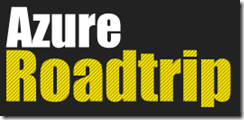 A while ago, Michelangelo van Dam (a hardcore PHP guy), François Hertay (a hardcore Java guru) and myself (a .NET guy) were asked if we wanted to write about some of our experiences with the Windows Azure platform.
Starting next week, you'll find about 3 blog posts per week and/or videos on Windows Azure (both a getting started level as well as some fun advanced posts) on a freshly released website: www.azure-roadtrip.be.
I have the honour of kicking off a series of blog posts on .NET, starting with a level 100 one: the what & why of Windows Azure for .NET developers.
Let's knock at an open door: Windows Azure is a cloud platform. It's a group of services offered by Microsoft that enable you to build your applications using the typical characteristics of a cloud platform: everything is self-service, on-demand and pay-per-use. You are the one demanding resources like virtual machines or storage and you pay for what you use, depending on how much you use for how long. No contract periods – well, there is one: you always pay for at least one hour if you use these resources.
Read more on wwww.azure-roadtrip.be! And keep an eye on that site as I have some fun posts coming there :-)
This is an imported post. It was imported from my old blog using an automated tool and may contain formatting errors and/or broken images.